Cambria Books and Hooligan Press have published a new ebook version of my 1988 novella, Doc Chaos: The Chernobyl Effect.
I love the tag line:
Inside a nuclear reactor, no one can hear you scream - with pleasure.
"DOC CHAOS is one of the most exciting and refreshing pieces of graphic literature I've seen in a long time." said Alan Moore very kindly in his introduction to the
original
comic series
.
As a love story, it makes
Fifty Shades of Grey
look like kindergarten games...
Doc Chaos
, the scientific prodigy who sold the promise of nuclear power to the most gullible, power-mad people in the world - politicians - did so not just because he likes seeing humanity "trip on its own banana skins" (as Graeme Basset put it), but for a much darker, more erotic reason... to reach the ultimate climax.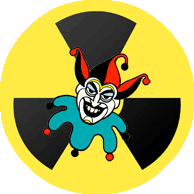 This new edition, (available

here

), contains 12 illustrations that were specially created by prominent stars of the comics art world:

Simon Bisley

(who did the cover, which has been coloured for this edition)

~ Brian Bolland ~ Brett Ewins ~ Duncan Fegredo ~ Rian Hughes ~ Lin Jammett ~ Pete Mastin ~ Dave McKean

(who did the illustration on the right)

~ Savage Pencil ~ Ed Pinsent ~ Bryan Talbot

.

It also contains a new short story,

The Last Laugh

, completing the Doc Chaos narrative at the coming apocalypse, and a new Afterword by me, which sets the two pieces in their creative context.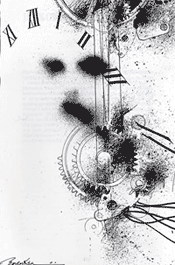 I believe DOC CHAOS takes the literary genealogy of doctors Frankenstein, Faustroll and Benway into the nuclear age and beyond.
The tragic Chernobyl nuclear disaster, the world's worst, happened in 1987, and, having campaigned against nuclear power for twelve years, while living under the threat of Mutually Assured Destruction during the Cold War, the absurdity of civilisation's perverted fixation on this doubled-edged technology seemed to me to be a good fit for the story of the Bad Doctor.
Written in a post-modern frenzy, it provided me with a lot of fun, especially when I mixed in elements of my own personal narrative, which those who know me recognise without necessarily knowing where truth ends and fiction begins. It seems obvious to me that there is a macho, psycho-sexual element in mankind's love affair with nuclear power.
A special word of thanks to the artists who contributed original illustrations to this edition. Each of them was given a copy of the manuscript and invited to draw anything they liked based on a particular episode or scene. Every single one of them responded marvelously, getting totally under the skin of the project. Brian Bolland even contributed two pictures, in the style of the Mr Mammoulian strip he was sporadically producing at the time.
What amazes me is how each artist has their unique vision for Doc Chaos, but all of them encapsulate its spirit. I like every one of them. They really make this book come alive.
The virus that began in a 1981 journal, mutating to continue its survival, is still on the loose.
As the bad doctor says: "You can't keep a good disease down."