What is it that distinguishes a book written for adults where children are the main characters and one written for children, where children are the main characters?
When I am writing for children or teenagers at the back of my mind is always this question of the difference between the two.
Here are the opening sentences of
In The Country of Men
by Hisham Matar, which was shortlisted for the Man-Booker Prize and the Guardian First Book Award. The narrator is recalling a time when he was nine years old:
"I recall now that last summer before I was sent away. It was 1979 and the sun was everywhere. Tripoli lay brilliant and still beneath it. Every person, animal and and went in desperate search for shade, those occasional grey patches of mercy carved into the white of everything."
The novel describes the gradual discovery by the child of his father's involvement in anti-revolutionary activity and what this means, and his desperate love for his mother.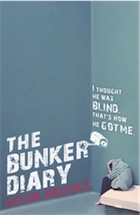 Here are the opening sentences of
The Bunker Diary
by Kevin Brooks, which controversially won the Carnegie Medal in 2014:
"10.00 a.m."This is what I know. I'm in a low-ceilnged rectangular building made entirely of whitewashed concrete. It's about twelve metres wide and eighteen metres long. A corridor runs down the middle of the building, with a smaller corridor leading off to a lift shaft just over halfway down. There are six little rooms along the main corridor, three on either side."
Much has been written about Brooks' book and whether it is suitable for children, so I'm not going to stray into that territory. You might consider that I have chosen a non-typical example, but many children's books deal with uncomfortable themes and issues.
Both of these openings are physical descriptions which imply a sense of claustrophobia. They perfectly set the scene for what is to follow, which only gets worse.
The two books have several more things in common:
there is no happy ending in either of them;
very unpleasant things happen along the way;
the main character is not conventionally likeable.
You can see other parallels from these extracts: the language in both is direct, the sentences straightforward. These stylistic points are undoubtedly a requirement for writing for children. But one can equally find instances of quite 'literary' writing in books for children, for example in the earlier novels of, say, Philip Pullman, such as
A Ruby in the Smoke
.
The Bunker Diary deals with important psychological and philosophical themes, that are uncomfortable to contemplate. So does Matar's book.
One aspect which perhaps distinguishes
In The Country of Men
(and other novels for adults) from most novels written for children is the retrospective angle: the narrator is now about 25 years old, and the narrative eventually catches up with him. This is less common in writing for children.
Another aspect that might signify a difference is non-linear storytelling, in which the narrative darts around in time. This is, again, less common in writing for children (however I did use this technique in my new novel Stormteller and, whilst I can't think of one at the moment, I'm sure I've read other children's books which do this).
The other observations to make about the difference between them are the setting (Gaddafi's Libya compared to contemporary London) and the degree of sophistication in the form of prior knowledge or experience that is assumed in the writing of Matar's book.
So to answer my original question, all other thngs being equal, the main aspect I am monitoring as I write for children rather than for adults is constantly gauging that level so it is pitched correctly.
I'd be very interested to know what you think about this topic?
David Thorpe is the author of Stormteller and Hybrids.