Last Monday was the day of the screening I organised of Life of Brian, which featured live on stage to answer the audience's questions: Terry Jones - Star & Director! and Sue Jones-Davies - Star & Aberystwyth Mayor!
It was a charity event at the Machynlleth Tabernacl in aid of
Fadeco
, a grassroots development agency in Tanzania, which I am on the organising committee of.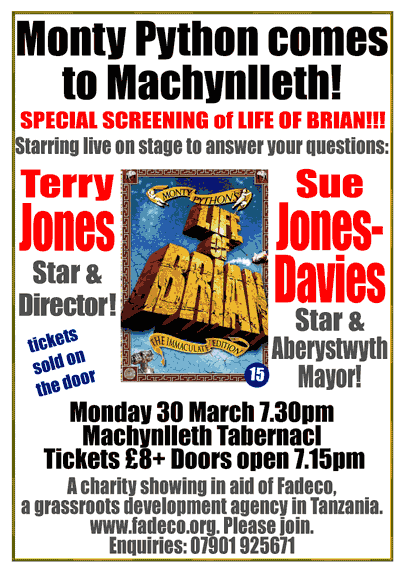 It went extremely well. Congratulations to the audience, many of whom dressed up as members of the Popular Front of Judea, or maybe it was the Judaean Popular Front! there were women with beards, people carrying sandals, and shepherds! Terry Jones was knocked out, as was Sue.
Sue is my former yoga teacher, and now the mayor of Aberystwyth, which, as was pointed out by Terry, just goes to show how appropriate was her casting as the political Judith Iscariot in the film!
I was privileged to be on stage interviewing the actors, and amongst the things they revealed were that Sue got the part because she had the same agent as John Cleese, and was told about the auditions. She went along and the Pythons were so knocked out by her passion and conviction they gave her the part.
Terry revealed many interesting aspects of the production, in Tunisia, including how Spike Milligan walked off set in the middle of shooting his scene because he got bored, and how he is still friends with most of the Pythons. Michael Palin and Terry Gilliam live not far from him in Hampstead above the heath, but he says finds John Cleese a little too critical and judgemental. John and Eric Idle now live on the west coast of America.
Terry also recounted how he is a local boy. He was brought up until the age of four in Colwyn Bay, then the family moved to a street off Camberwell Grove, Grove Park in South London. But he has a hideaway old stone cottage in Pennant, near Staylittle, which is about 8 miles up in the hills to the east of Machynlleth. This was in his wife's family and he used to come here from the mid-'60s onwards to write.
With Sue was her son, Sion, who with my son, Dion, were members of the INCA film/music project from 2005 to 2007. Sion is a lovely young man, and talked about his desire to study architecture.
Terry also talked about his new project, Adam and Eve, an animation, and the argument he is having with his producer, who changed the script he had written without consulting him (so, it doesn't matter how famous you are, this still happens). He marvelled at how self-contradictory the book of Genesis is, and how it is rich in humour. One of the animators working on the development has also worked on The Simpsons.
Discussing whether you could make a film like the Life of Brian today, he said that there was a lot of misunderstanding surrounding the film itself. He did not consider it antireligious, but about the credulity of people. "In many ways everything, Brian, Graham Chapman, says in the film is common sense: how we should get on with each other and think for ourselves. This," he said, "is pretty much what Jesus himself said." Jesus of course figures in the film so the film does not dispute the existence of Jesus. What he does complain about is how people subsequently twisted and misinterpreted what Jesus said. He also got the most animated when he attacked people like Malcolm Muggeridge and other critics at the time who attacked the film for being antireligious without even having seen it, or in one case missing the first half-hour. "How dare these people judge a film without having seen it!" he ranted.
In 1985 I interviewed Graham Chapman because he had just broadcast an Opinion piece on Channel 4 which voiced libertarian, anti-authoritarian views. These were not 1,000,000 miles from the views preached by Brian in the film, so I asked Terry if Graham had written his own dialogue. After all, he says "don't listen to me, think for yourself!" at which point the entire crowd shouts as one "yes, we will think for ourselves!". Terry responded that basically everything Brian said they all worked on together, and it's common sense. Well, that's a matter of opinion!
He also discussed another animation project based on an opera which he wrote the libretto for, and directed,
Evil Machines
, staged in Lisbon last year, which features singing washing machines, vacuum cleaners and parking meters, not 1,000,000 miles in concept form my own Hybrids. He is currently seeking funding for the project.
The event was a great success, both Terry and Sue agreed to be patrons of Friends of Fadeco, and we raised over £2000. Profuse thanks to both of them, and everyone who helped on the night.