When I blogged last month that the winner of the presentations competition of the Lewisham Book Award was a team from Prendergast and Knight's Academy, what I didn't say was that they were presenting my book Hybrids.
I have just found out that also Hybrids has won the Lewisham Book Award, which is a joint event between Lewisham Secondary Schools and Lewisham Public Libraries celebrating the National Year of Reading 2008. This is wonderful news, and my thanks to them.
Below are slides from the wnning team's presentation, as presented by: Kate Deedman & Rukshana Uddin Yr8 - Prendergast School and Alexandra Truong & Nicole Akano Yr8 - Knight's Academy.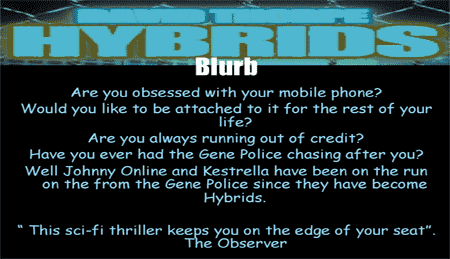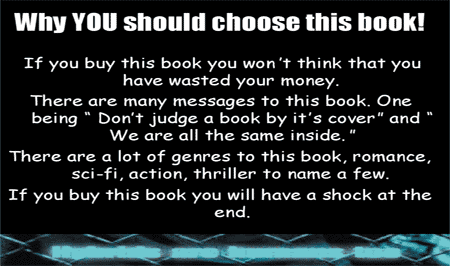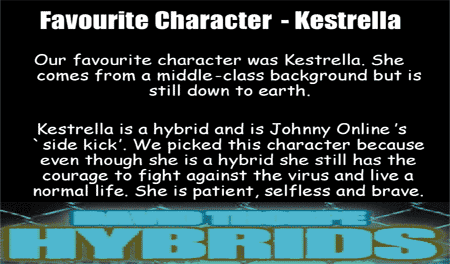 Each team was told that they represented a publisher who wanted a bookseller, represented by guest author, Sam Enthoven, to buy their book. They had to persuade him to buy whatever title they were allocated, from the six shortlisted books, even if it was not their favourite. They were given approximately an hour and a half to make notes and to transfer these to a five slide Powerpoint presentation.
The other books on the shortlist were:
The Boy in the Striped Pyjamas by John Boyne
The Black Tattoo - by Sam Enthoven
The Wave Runners - by Kai Meyer
The Book of Everything - by Guus Kuijer
The Outlaw Varjak Paw - by S.F. Said
My thanks also to Natalie & Michael Powell Davies Yr9 & Yr7 & Judy Burnett Yr8 – Sedgehill School who also presented Hybrids very well, and to the organisers of the event and competition Chris Sivajnanam, Sedgehill School Librarian and Joanne Moulton – Children's and Young People's advisor - (Public Libraries), and to the judge Sam Enthoven, plus all the other school librarians.
It's great to see so much enthusiasm into getting kids reading.
Fingers crossed now for the Sefton Super Reads award (Liverpool) where Hybrids is also shortlisted.
Now, come on HarperCollins, commission books two and three!